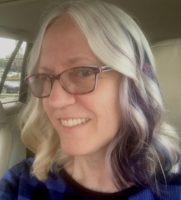 These are my hair stories. People often ask me why I color my hair blue and purple. There is a reason – a very personal reason. I lost my two sisters to cancer. It's funny growing up, at some point you realize you will most likely lose your parents, but we never think about losing our siblings. Sure, as we get older it becomes more of a reality, but it is tough when it happens.
I lost my mother when I was 19. My father when I was 38. When I lost my sisters after 56 and 62 years respectively, I realized they had been in my life longer than either of my parents. The loss was devastating. It was hard to imagine my life without either of them. That was the moment I decided to honor them by keeping them close to me. Their favorite colors were blue and purple, so I went to the salon and had blue and purple streaks added to my gray hair.
Now wherever I go, they are with me.
Grief Unites Us
Many people compliment me on my hair. I am always happy to tell people why I do it and that it makes me happy. What I did not expect was the comfort it gives others to share their stories of grief with me. I never realized just how many of us have stories that we hold tight and never share. That's a shame. When others feel comfortable enough to tell me about their own loss and how it has impacted them, we build a small bridge and we both heal a little.
Here in this space, I will share some of these stories. Most are about grief, but not all. I am fondly referring to them as 'Hair Stories'.
In honor of my sisters: Rosie and BJ. I love you to the moon and back again.